Management of SIFAX Group in line with her policy of honouring and appreciating deserving members of staff, hosted five of its members of staff, who have served meritoriously for ten years.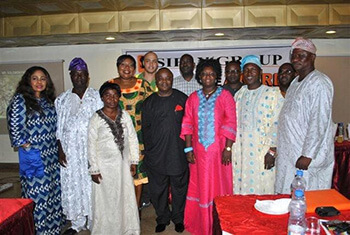 These members of staff include; Mr. Olanrewaju Agbabiaka, Manager, SIFAX Shipping Company Limited, Mrs. Gladys Onuoha, Office Asstistant, Mr. Fatoyinbo Solomon, Dispatch Rider, Mr. Yisua Tajudeen, Driver and Mrs. Evelyn Elue Ogom, Head of Billing, SIFAX Off-Dock.
Each of these awardees received a brand new double-door fridge/freezer and a certificate of honour. The awardees, who attended the event with members of their family and friends, were full of praises to the organization and poured encomium on the Group CEO, Dr. Taiwo O. Afolabi, for his humility and magnanimity.
This event, which took place at the prestigious Rockview Hotel, Park Lane, Apapa Lagos, on Friday, 15th Feb. 2013, had in attendance senior management staff of SIFAX Group. Both Dr. Fola Rogers, Secretary General of Djibouti Consul, and Dr. Phil Ofulue, Executive Director of HR/Admin represented the Group Executive Vice Chairman/CEO.