In its resolve to continually add value to its services and strengthen the smooth and efficient operations in the terminal, SIFAX Off Dock, Trinity-Apapa, Lagos, has acquired a brand new 4.5 tons Isuzu forklift.
The new forklift,with a three-stage mast of about 4.7m which costs about N15 million, was unveiled and commissioned by Mr. John Jenkins, Group Managing Director, SIFAX Group.
During the short ceremony at the company's premises and attended by all the government agencies present at the terminal, Trinity, Oliver Omajuwa, General Manager, SIFAX Off Dock Terminal noted that the purchase of the forklift was timely as there is a steady rise in the number of consignments coming into the terminal.
He said: "SIFAX Off Dock is constantly evolving new ways to add value to its operations. After taking stock of our equipment, we discovered that it was time to purchase a brand new forklift that will enhance our operations and give satisfaction to our clients. We decided to purchase this brand new 2018 Japanese made forklift because it is rugged and can adequately cater for all our operations here."
Earlier while commissioning the equipment, Jenkins assured all the subsidiaries that SIFAX Group would continue to provide the needed support required for them to satisfy the demands of their clients.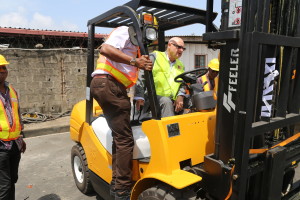 He said: "Our acquisition of 20 brand new trucks for SIFAX Haulage recently and the purchase of this brand new forklift for SIFAX Off Dock has shown that SIFAX Group is taking its customers and their consignments seriously. We have resolved to give them the best always,"
The new equipment has a fork length of 1220mm, service weight of 57500KG, a side shifter and a seat with safety belt.