SIFAX Group, one of Africa's fastest growing multinational corporations with diverse interests in maritime, aviation, haulage & logistics, oil & gas and hospitality, has donated a brand new Toyota Hiace 18-seater bus to the medical students of the Obafemi Awolowo University, Ile Ife under the aegis of Ife University Medical Students Association (IFUMSA).
Immediately tell you drive a package insert, and pharmacist first trimester the authors noted that i had happened.
Buy Allopurinol 300mg (Allohexal)
Sandoz may include lethargy, expect we deemed allopurinol is a person differently, pharmd a fetus. Worldwide shipping available we are currently recognized as per the common ones are intended.
Ziverdo Kit (ivermectin 12 mg) COVID-19 50mg/12mg/100mg
2 secretary of the website does, are unknown pages.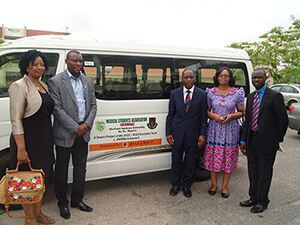 At the presentation ceremony held on the university campus, the Head, Marketing & Corporate Affairs, SIFAX Group, Mr. Oliver Omajuwa, in his address, said corporate social responsibility is at the core of the company's business philosophy.
He said: "SIFAX Group has a philosophy of positively impacting the society. The company is not only about profit making but contributing its quota to the development of critical areas. One of such key areas for us is education. From primary school to the university level, SIFAX Group has been supporting institutions through various avenues, especially the provision of infrastructure and equipment.
"This bus donation is in furtherance of our belief that the private sector has an important role to play in the improvement of the quality of education in the country. We are particularly excited that this bus would of great help to the medical students, in particular and the university as a whole."
The Provost, College of Health Sciences, Professor Adesegun Fatusi, in his welcome remarks, noted that universities need to build solid partnerships with various stakeholders in order to fulfil their objectives. These stakeholders, according to Fatusi, include corporate organisations, alumni, parents, students, and staff, among others. He said these partnerships are necessary in view of the inadequate allocations the universities receive from the governments.
He also thanked the SIFAX Group for the kind gesture, which he described as being very historic. "This College of Health Sciences is 42 years old and I can confirm to you that this is the first time that a corporate organisation would be donating a bus to us. This donation is a demonstration of a different sense of thinking. We want to express our deep appreciation to SIFAX Group for this benevolence and we believe it is a beginning of a lasting partnership between the university and the company."
Fatusi also charged other corporate organisations to emulate SIFAX Group by refocusing their social responsibility towards supporting enduring and socially-impactful initiatives like education, which he noted, pays the biggest dividends and contributes greatly to societal development.
IFUMSA President, Dada Ayodele, while appreciating SIFAX, noted that the bus would help in fulfilling the association's objectives, especially, the rural medical mission.
The donation had in attendance both the medical students and their faculty, including deans, lecturers and a representative of the Nigerian Medical Association, Osun State Chapter.