The Group Executive Vice-Chairman/CEO, SIFAX Group, Dr. Taiwo Afolabi, has challenged stakeholders in the country's housing industry to develop a strategic action plan to address the country's housing deficit.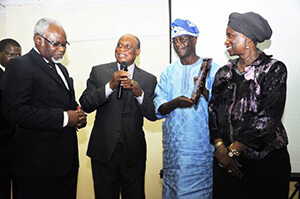 Speaking at the Special Guest of Honour at the May 2015 Members Evening of the Institute of Directors (IOD), Abuja Chapter, Afolabi noted that the challenge of bridging the housing deficit put at 17 million is daunting but surmountable if all the stakeholders could show dedication and commitment in tackling it.
The topic of the event was "NMRC: Connecting Mortgages to Capital Markets" and was sponsored by SIFAX Group, one of Africa's fastest growing multinational corporations with diverse interests in Maritime, Aviation, Haulage & Logistics, Oil & Gas and Hospitality.
Afolabi, who was represented by Major Henry Ajetunmobi, a director in the company, said the discourse as initiated by IOD could stimulate ideas that could be of immense benefit in addressing the challenge.
He said: "This is a challenge that we all must see as one that needs urgent collaboration of all stakeholders for us to frontally tackle it. The government, financing and mortgage institutions, investors, building professionals, among others, must develop and adopt a workable template that would make housing affordable in view of the economic realities of the country."
In his lecture, the CEO, Nigeria Mortgage Refinance Company (NMRC), Prof. Charles Inyangete, highlighted the various efforts so far made by his organization since inception to broaden the housing financing space in the country.
He said the huge financial resources available at the country's capital markets made it a veritable source of financing for affordable housing development, adding NMRC is working with various authorities to achieve this objective.
Earlier, in her welcome address, the President of IOD Nigeria, Chief (Mrs) Eniola Fadayomi, said the Members Evening was designed to address topical issues with the aim of generating ideas and solutions for the overall benefit of the country.